By: Becky O'Sullivan
Welcome to Part 2 of our epic journey through the world of zooarchaeology…. in this installment you'll get to learn a little about the characteristics that distinguish bird bones from those of other animals (like mammals from our last installment). Just like today, birds would have been a popular item on the menu in prehistoric Florida, although they wouldn't have been eating chicken! The species of birds consumed at an archaeological site can tell us more than just what people were eating, they can also inform us about the time of year people were living at the site. Many birds migrate to Florida and so are only in the area during a certain time of year; if we find the bones from these birds we can learn more about if people were living in one spot all year round or if they moved around with the changing seasons.
Top Tips for ID'ing Bird Bones:
Bird bones are:
Light weight and almost hollow
Glossy and smooth texture, but not transparent
Have an angular shape to some ends
Have thin cortex with thin support webs within
Because they need to be so light to fly, bird bones are generally very fragile and their skulls do not often survive archaeologically. Birds don't have teeth like mammals do, usually a good tool for identification,but they do have distinctive skulls and beaks that can be useful to look at (when they can be recovered). Long hollow bone fragments and vertebrae are often all the archaeologist finds.
Vertebrae: Although they have a central foramen or hole like we see in mammals, it is smaller in comparison to rest of the vertebral body. The surface where two adjoining vertebrae touch (the centrum)  isn't flat like in mammals but is saddle shaped and depressed instead. This is so they can lock together and stabilize the bird's spine while in flight.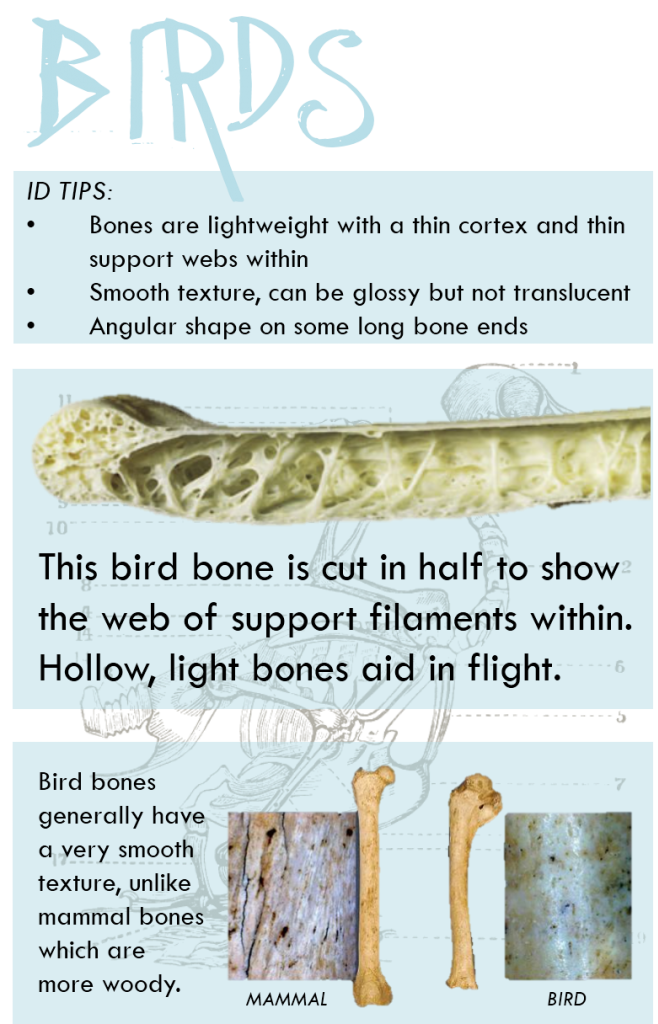 Stay tuned for the next installment….. Reptiles! In the mean time, check out these helpful links….
Good links to check out for bird bones:
General bird skeleton overview http://www.uwlax.edu/biology/zoo-lab/Lab-10/Bird-Skeleton-1.htm
Avian Osteology – A Bird Bone Identification Guide http://www.royalbcmuseum.bc.ca/Natural_History/Bones/homepage.htm
Bird skull database, 3D bird skeletons (ex: cormorant, curlew, buzzard), Bird skull ID helper  http://www.skullsite.com/index.htm
Seabird Osteology – Pelicans, cormorants, gulls, etc  http://shearwater.nl/?file=kop2.php
Labelled Pigeon Skeleton  http://www.savalli.us/BIO370/Anatomy/7.PigeonSkeleton.html
Great Blue Heron http://www.boneid.net/Greatblueheron.html
Great Horned Owl http://www.boneid.net/Greathornedowl.html
Chicken http://www.boneid.net/Chicken.html
Chicken Research Group  http://www.chickenco-op.net/home
Wild Turkey http://www.boneid.net/Wildturkey.html
Becky is an archaeologist working at the West Central Regional Center of the Florida Public Archaeology Network, located at the University of South Florida in Tampa. If you have some faunal resources you'd like to share, please contact her at rosulliv@usf.edu .